The question is …
Can an Austrian jazz pianist whose career did not begin in music break into the center of jazz history? Can he interpret the standards of the Great American Songbook in the sense of their composers in a fresh and unique way as if they were written yesterday? Can he incorporate the innovations of Fats Waller, Duke Ellington, Thelonious Monk, Charlie Parker, Miles Davis and many other jazz legends into his work and somehow develop his own personal style from these many influences? Can he avoid the need to be especially hip, unconventional and avant-garde and simply just play jazz which today would be regarded as timelessly beautiful by most people, not just jazz fans?
The answer is …
He can, having had the indescribable luck of having a jazz legend as a close and personal friend for decades. In my case this was the incomparable pianist, arranger, composer and band leader Hank Jones (1918-2010). Hank Jones was and is not just my interface to the jazz greats, but he is also my mentor, my teacher, my inspiration.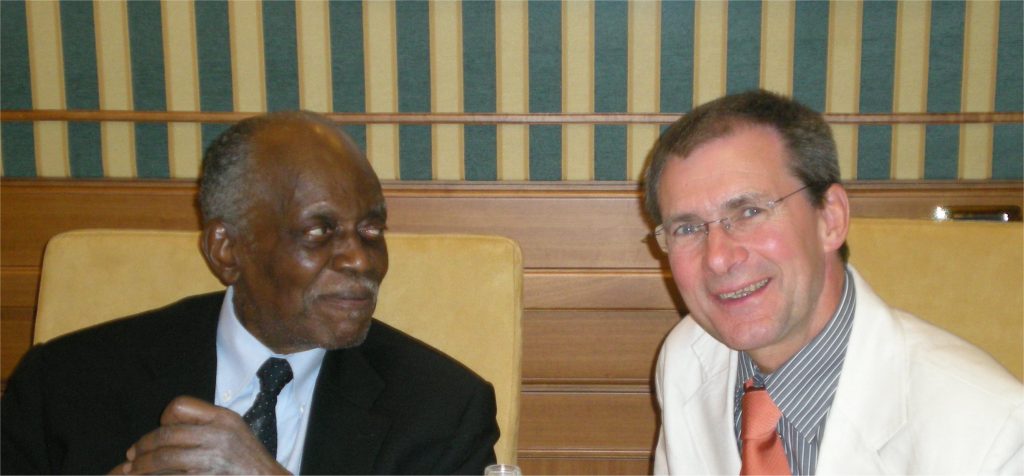 How it all began
After starting out as an non-professional musician in the 1970s in order to develop my pianistic abilities in the realm of jazz and to try out with various local jazz bands, I heard Hank Jones live for the first time in 1978. If there is such a thing as "love at first tone" then I had found my musical father in this moment.
I got to know the world of Hank Jones through the many albums available at the time which were vinyl and not CDs: the swing era, the times of bebop, the developments which followed, the influences of blues and Latin American music. And through that man who could bridge the gap between swing and modern jazz like no other, I learned a lot of and about the jazz legends of the previous century.

The more involved with my role model I became, the more I learned of his way of forming an inimitable personal style from the best of the storied past of the jazz piano: I heard Fats Waller, Teddy Wilson, Earl Hines, Art Tatum, Ellington, Monk, Bud Powell, Al Haig and many others in his work.
The Birth of a Friendship
In 1987 it finally happened: in the Widderbar in Zurich (Switzerland) I got to shake the gifted hand of Hank Jones. From this first face to face encounter a friendship developed, almost a father-son relationship which would last 23 years until the death of "my" Hank.
"Interface"
I travelled to as many Hank Jones concerts as I possibly could, regardless of where in the world they took place. I got to know and appreciate his fellow musicians personally: for example the grandiose bass player and his companion for decades George Mraz, other bass players such as Buster Williams, Dave Holland or Ray Drummond, drummers such as Carl Allen, Dennis Mackrel, Idris Muhammad, Keith Copeland, Alvin Queen, Kenny Washington, Joe LaBarbera, Lewis Nash or Willie Jones III, the saxophone giant Joe Lovano, the singer Roberta Gambarini. Thanks to Hank I sat at a table with Ray Brown (b), Mickey Roker (dm), John Lewis (p), Steve Kuhn (p), Don Friedman (p), Ornette Coleman (saxes) and many other world class musicians. I accompanied Hank to the studio and once saved a recording session.
I once took Hank and his wife Teddie up on an invite to their house in Cooperstown (NY) with my wife and daughter. I visited Hank at his apartment in Manhattan. I welcomed Hank several times as a guest to my home with my family in Vienna. I took lessons with him; I collected and continue to collect all materials I can get on him, in particular his CDs and videos. I transcribe his piano voices. And I am perhaps one of the few people on the planet who is in possession of (legal) hand-written original copies of compositions and arrangements by the master. His original "Interface" – a 24 bar blues in minor with a brilliant and simple melody and unique harmonies – is one of these compositions and most symbolizes our close relationship.
Kurt Prohaska Trio
With all that I had learned I set out to start my own trio in 1999. I am thrilled to have managed in the meantime to find my way to the best event venues even when locally limited, and that I have been able to obtain professional musicians – some internationally renowned and who work internationally – for my trio. It is my wish to always be able to play with new top musicians within the framework of my very flexible band concept.
Celebrating the great Hank Jones
When my dear friend Hank Jones passed away on the 16th of May 2010 at almost 92 years of age, the inevitable day that I had dreaded, had arrived. However I should not be unhappy: Hank died peacefully and with dignity and was onstage until shortly before his death, leaving behind a gigantic musical legacy. And who is the one destined to get to know their great role model at 69 years of age and to keep them with and in them as long as they can? How lucky it is that this was also the master's most creative time of his life. I will need the rest of my life to assimilate, integrate and perhaps further develop in my own way just a fraction of what Hank left behind for me and ensuing ages in music, musicality, creativity, humanity, wisdom and humor.
The death of my mentor cemented my decision to devote myself professionally to music. I want to keep the spirit of Hank Jones alive in any way that I can. What this means for me is explained under my ambition.