2015-2018 Pygmalion Theater
THE STORY OF JAZZ begann 2015 im kleinen Pygmalion Theater in 1080 Wien. Von Oktober 2015 bis Juli 2016 spielte ich mit meinem Trio (Kurt Prohaska Trio) und den ersten Special Guests monatlich ein Kapitel (Chapter) der Konzertserie: jeweils 4 Konzerte an 4 aufeinanderfolgenden Tagen (Mi.-Sa.), in Summe 40 Konzerte in 10 Monaten.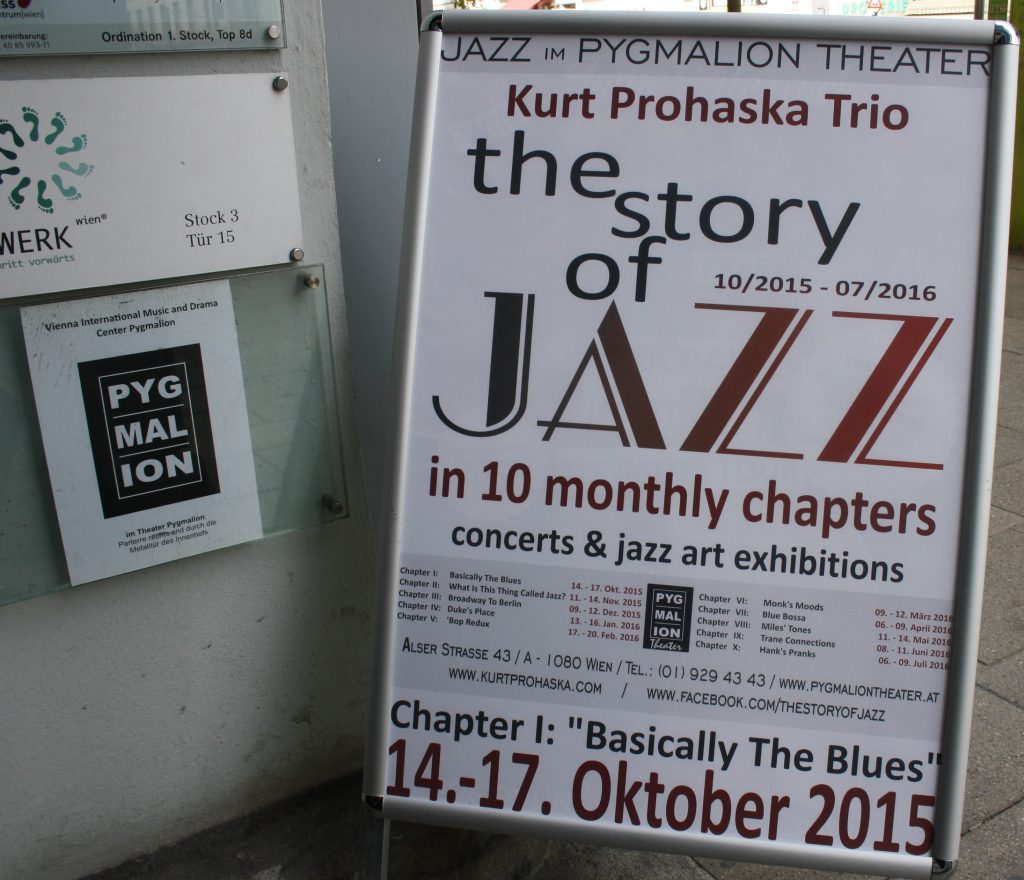 Entgegen den bei Projektstart von Insidern geäußerten Bedenken, dass THE STORY OF JAZZ vielleicht gerade einmal 2 bis 3 Monate überleben würde, steigerte sich im Laufe der Zeit die Anzahl der Besucherinnen und Besucher. In Summe kamen in der Saison 2015/16 knapp 2.000 Gäste.
Die Konzerte waren in Kunstausstellungen über Jazz eingebettet. Zu sehen gab es: Fotos und Gemälde, Bücher und Album Covers, Instrumente, Musiker-Biographien, Videos, Noten und Songtexte, Zeitungsausschnitte – und ein "Player Piano". Im Kurt Prohaska Trio spielten vorwiegend (aber nicht ausschließlich) Joe Abentung (double bass) und Dusan Milenkovic (drums).
2017: How to procede?
Obwohl ursprünglich nur für die Spielsaison 2015/16 angesetzt, verleitete mich die mehr als positive Publikumsresonanz, THE STORY OF JAZZ im Jahr 2017 fortzusetzen. Es waren nur 4 Kapitel und jeweils nur 3 Tage, aber die hatten es in sich: in "Keepin' Up With The Joneses" ehrte ich zusammen mit dem Trompeter, Kornettisten und Flügelhornisten Christof Zellhofer die Brüder Hank, Thad und Elvin Jones, in "Have You Met Heath Jones?" begrüßte ich den aus Oklahoma (USA) angereisten Tenor-Saxophonisten Heath Jones, in "Astrid Sings Astrud" sang die wunderbare Astrid Eder eine Hommage an Astrud Gilberto und in "Dizzy Atmosphere" feierten wir mit dem perlenden Sound des Trompeters Gerhard Ornig den 100. Geburtstag von Dizzy Gillespie.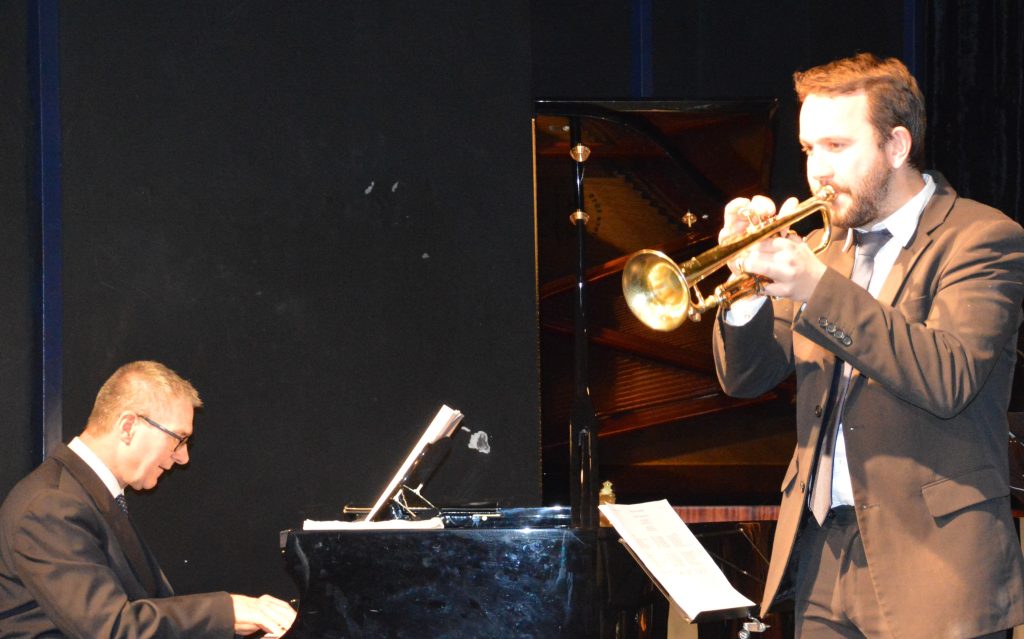 2018: The Hank Jones Centennial
Als Freund und Schüler der Jazz-Legende Hank Jones (1918-2010) widmete ich meinem musikalischen Vater anlässlich seines 100. Geburtstags 2018 ein Gedenkjahr im Rahmen meines Projekts THE STORY OF JAZZ. Ein 5-teiliger Jahres-Zyklus mit insgesamt 20 Konzerten (und einigen Previews) reflektierte das Leben und Lebenswerk eines Musikgenies, dessen Schaffenskraft sämtliche Stile und Entwicklungen des klassischen Jazz umfasste – eines Pianisten, Bandleaders, Arrangeurs und Komponisten, der 80 Jahre lang auf der Bühne stand, von Louis Armstrong bis Miles Davis mit so gut wie allen Größen des Jazz gearbeitet hat, in mehr als 1.000 Aufnahme-Sessions zum begehrtesten Begleiter und zum meist-aufgenommenen freischaffenden Jazz-Pianisten aller Zeiten wurde und dabei bescheiden wie kaum ein anderer geblieben ist.
Das Jahr 2018 der Konzertserie THE STORY OF JAZZ zeigte fünf herausragende Aspekte, die eine wahre Persönlichkeit des Jazz wie Hank Jones prägten:
Es waren die "Mixed Roots" eines Hank Jones, die er mit Kreativität, Offenheit und Genialität zu einem unverkennbaren persönlichen Stil verschmelzen ließ.
Von der einzigartigen, für die Entwicklung eines Künstlers so entscheidenden Atmosphäre in der bis heute unangefochtenen Weltstadt des Jazz erzählten die "New York Stories".
Rund um den 100. Geburtstag von Hank Jones einige großartige internationale Musikerinnen und Musiker ihm zu Ehren in Wien auftreten zu sehen, bedeutete schlicht und einfach: "Just Friends" und "Just Friends – Previsited".
Den japanischen Produzenten, Veranstaltern, Musikern und Jazz-Enthusiasten, die den künstlerischen Wert des Jazz und gerade eines Hank Jones besser als viele andere erkannten, wurde ein aufrichtiges "Arigato" gesagt.
Persönlicher, familiärer, intimer und dazu noch poetischer, feinsinniger und entspannter konnte ich meine Verehrung für mein Vorbild nicht ausdrücken – was Hank Jones 2004 auf einem Album zum Ausdruck brachte, tat ich auf der Bühne: "For My Father".
Resümee
In etwas mehr als drei Jahren hatte sich THE STORY OF JAZZ zum erfolgreichsten Jazz-Zyklus Österreichs auf einer Theaterbühne entwickelt. Knapp 4.000 Gäste hatten sich über 20 Chapters der STORY OF JAZZ begeistert gezeigt – und das Pygmalion Theater an die Grenzen seiner Kapazitäten gebracht.
Public Voices
"Trotz Bescheidenheit und mit Charme haben Sie uns durch Herz und Leidenschaft in die Welt des Blues und des Jazz eingeführt."
"Es ist schon eine Freude, Menschen mit solch einer Begeisterung spielen zu sehen. Und dann die Musik …"
"You guys took me somewhere else and I hope to return soon."